Isn't Megan pretty. I think I 'd really like to get to know her.... *wink*..... if you know what I mean. Her master sure likes some strange dogs though. Now Megan's a Cairn Terrier. I've heard of those... but whoever heard of an Ibizan Hound, or an Otter Hound, or even a Belgian Tervuren. You'll have to visit his site to see what they are.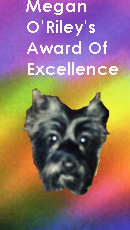 Working Dog Web has all sorts of neat information. Mom spent lots of time there just reading stuff. She tried to tell me there were dogs that actually "worked".... but hey, I work at being cute.... and I work hard.

These next two awards came from one great site. Wow... this lady knows how to cook too... Click here to see some of her recipes (I like people food too). If you're into doing some serious thinking she has that too... just click here (Mom'll have to do the thinking... I'm not up to that.)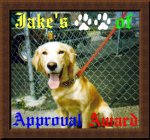 Jake has crossed the Rainbow Bridge
but this site is dedicated to him.
Golly gee, Mom. Frazze thinks I'm cute and I think Frazze is so handsome. I need a good buddy like him. Can we go overseas and meet him? Can we huh? Can we? All that gorgeous hair. Oh Mom, please.

Visit Buzz's site and don't forget to check out his master...
he's a policeman and has lots of good police stories and pictures.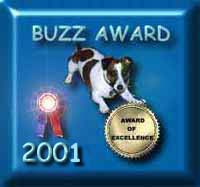 These Dazzling Danes will
tickle your fancy...they look This artist paints
like lovable clowns! great pictures of your pet.
Featured dog for Jan. 6-12, 2002

Are you interested in being considered for an award from me. If so click here.
Home | My human family | My animal family | About me (with pix) | My Adventures
Snapshots1 | Snapshots2 | Snapshots3 | Snapshots4
Articles | Let's Play | Awards | Links