First of all meet Gidget. She's a cute poodle who belongs to Lori's best friend. Her owner, Patti, brings her over to play with me when she's visiting Lori.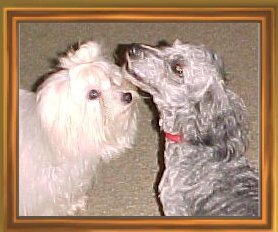 She turned her nose up at
me at first.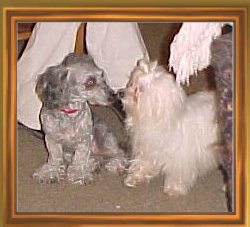 Maybe she's a bit interested.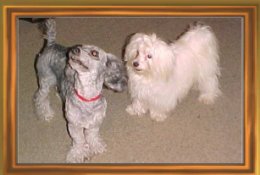 I don't know what Gidget wants...
but I want Gidget!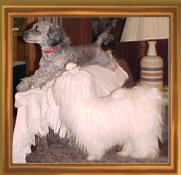 Doesn't she look pretty -
perched on the back of the chair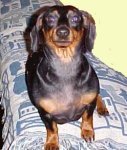 Here's a picture of Mom's friend's "Doodle Dog". I haven't gotten to meet her yet but Mom's friend got a new camera and sent this picture to me. I'm looking forward to meeting her.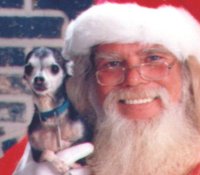 Mom got this picture of Gizmo with Santa.
Gizmo belongs to a long-time friend of Mom. She's kinda old for me though.
This little beauty is Baby.
She lives across the street from me.
You can imagine her Dad's surprise when one day I got away from Mom and their door was open. He was snoozing in his chair and I ran in the open door and jumped in his lap. Scared him.... I did.... I did.

For more pictures see:
Snapshots 1 - My Brother & Sister
Snapshots 2 - Yours Truly and some with Crook
Home | My human family | My animal family | About me (with pix) | My Adventures
Articles | Let's Play | Awards | Links
Updated Dec. 22, 2001